Cold Fronts and Speckled trout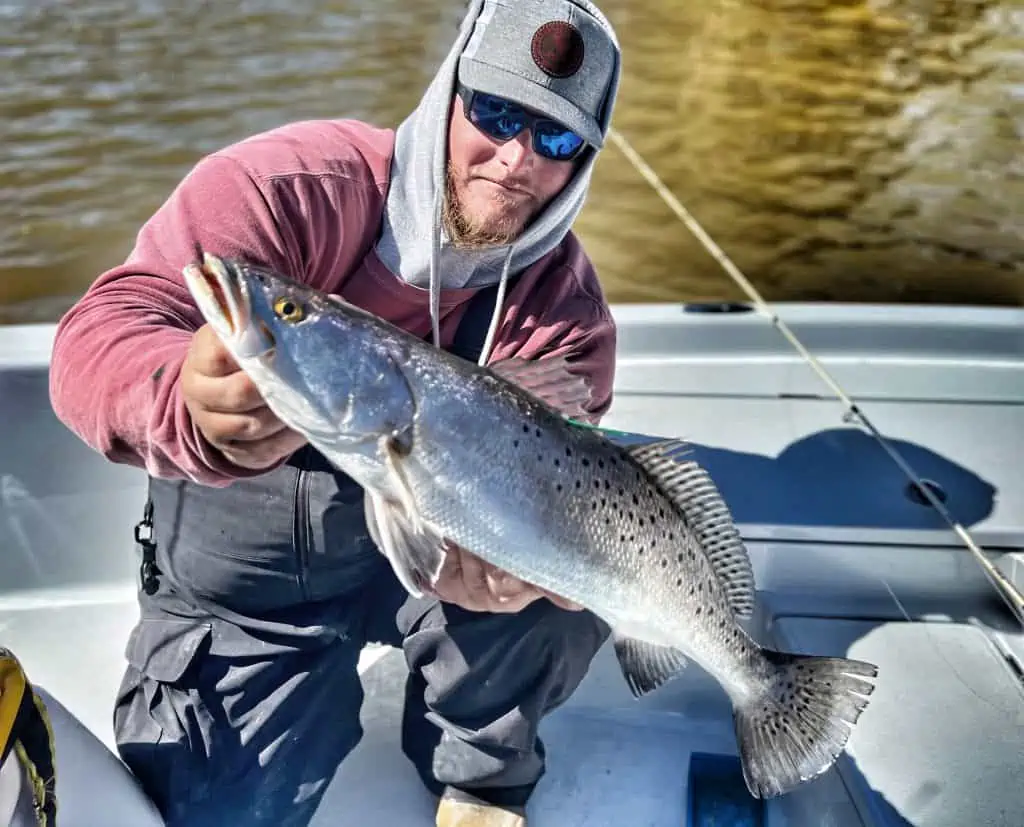 Cold Water
We have witnessed water temps in the lower 40's even in some areas the upper 30's for a day or two most days water temps average around 57 degrees. Follow the water temps in real time by clicking HERE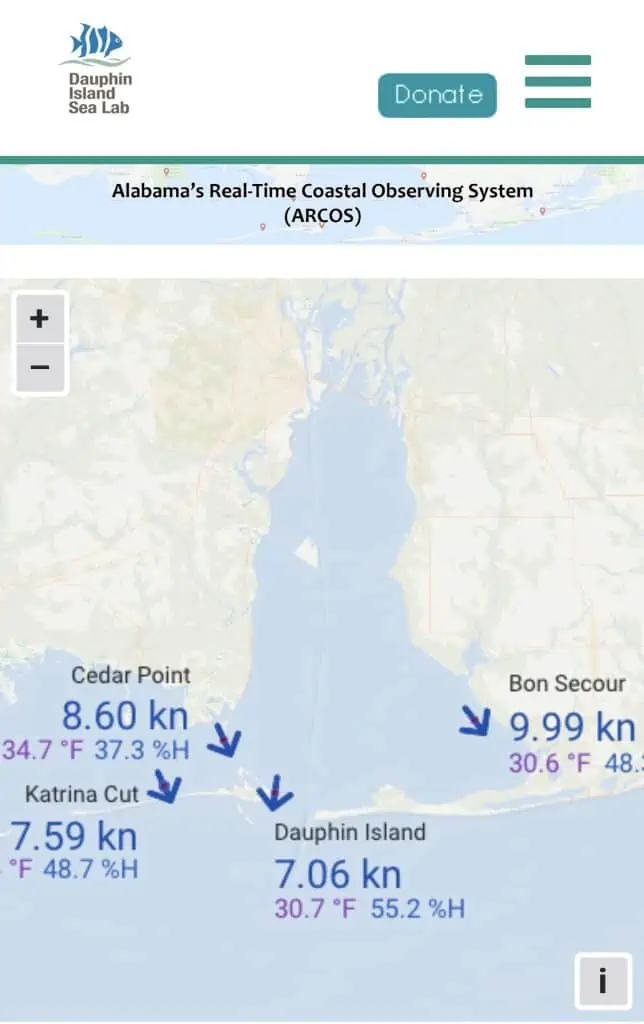 First Cold Snap
This year our first nice cold snap rolled through our area in mid October. A cold snap in October is not uncommon and is often very much needed and appreciated. Therefore this cold snap combined with shortening days will be the first noticeable triggers to sending speckled trout toward their winter homes. Historically, I see this cold snap as false hope yet you may find some massive schools of small speckled trout. This cold snap causes smaller shrimp to start moving which will cause the smaller speckled trout to frenzy. Frenzies can be highlighted by flocks of birds feeding on shrimp. Trout are pushing shrimp to the surface and the birds feed on the fleeing shrimp. Have fun with these schools, most of these fish will be undersized but the action can be incredible.
The Warm Up
That first cold snap is just a tease. What's next? Although, speckled trout felt changes they won't be "piled up", yet. Basically, the fish will be moving everyday but the "warm ups" can cause frustration. The mild air temps combined with mild water temps will feel great but the fishing can be tough. What is going on? In my opinion a warm up allows fish to spread out and feed on the best bait available. When the fish spread out they become harder to find. If fishing is hard just blame the warm up.
Approaching Cold Front
Undoubtedly cold fronts are coming. I begin pondering over how much rain will fall with each front. How will the rain impact our area and effect the fishing? Majority of the time the approaching cold front will be a warming trend. When cold fronts approach I look for speckled trout to move shallow and feed pretty well. Many times we will locate speckled trout in 2′ or less in pre-front conditions. Also as the cold front approaches the wind usually will increase. This increased wind is usually of the southern direction. Increased southern winds and warmer temps will often increase water levels throughout the Mobile Bay system. This increased wind and water levels can prove to make fishing difficult. If fishing sucks for you then blame the warm up.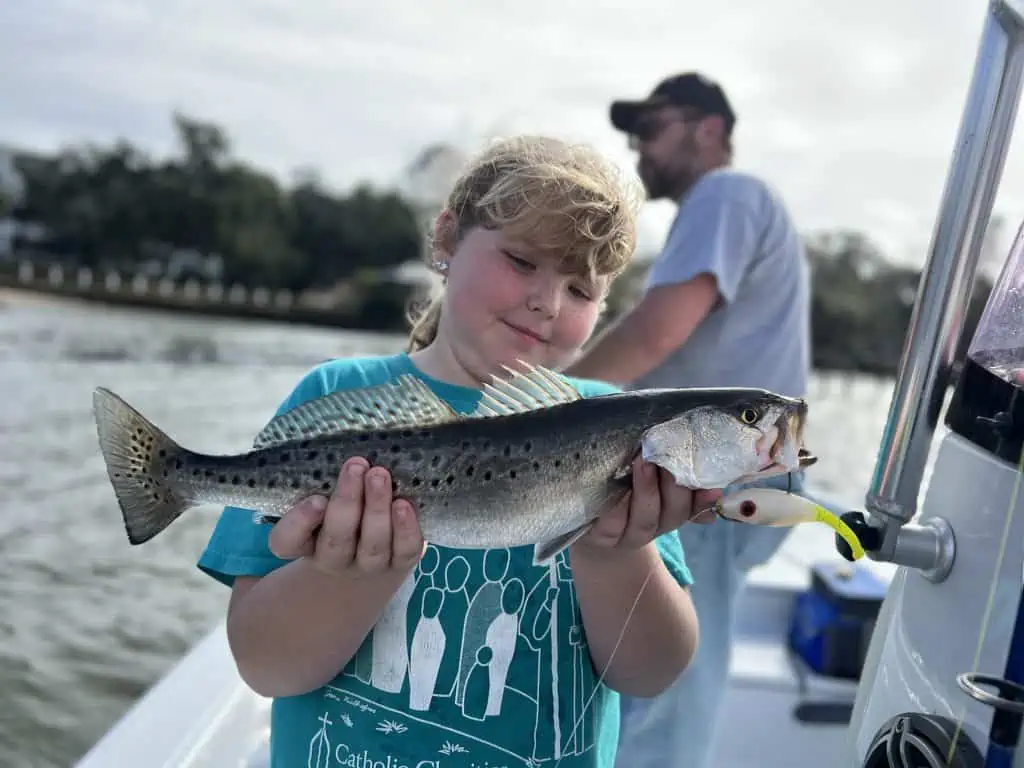 The Rain Arrives
Subsequently, as the front arrives it usually brings rain to our area and throughout the entire Mobile Bay watershed. The Mobile Bay watershed consists of local and upstate watersheds. Heavy local rain will typically flush out of the smaller tidal rivers, creeks and bayous with in 1-4 days. The smaller the tributary the faster it will clean up. Large amounts of upstate rain are those areas up stream of the most southern dams. Coffeeville dam on Tombigbee River and Claiborne Lock and Dam on the Alabama River are key indicators.
Local River/ Tidal River systems
Heavy local rainfall will typically shut down or nearly eliminate all speckled trout fishing in the smallest tributaries for several days or even weeks. In my opinion these small rivers can will nearly flush all the salinity with a major local rain event, which will make it to fresh for speckled trout to survive. Therefore, these fish will leave. If you have to go fishing for speckled trout after a major rain event then I suggest to focus your efforts on the larger and deeper river systems.
Good Fishing
Although we get some cold sprinkled in here and there in October, November and early December Winter doesn't actually begin until December 21st. I hear people talk about how good the "winter" fishing is while catching fish in early December. This good fishing is actually fall fishing and that angler is enjoying a good fall pattern. Despite what you wish to call it the fishing is generally its best before and few days after a cold front. Each front makes a change in all species from bait to big fish. Long stretches of consistent weather is often appreciated by us humans but the best fishing is usually brought on by major weather changes.
Salinity
In my experience the true winter homes of speckled trout in Alabama are the brackish rivers and creeks. In the winter speckled trout are not spawning so they only need 5ppt salinity to survive and they are quite happy in 6ppt-10ppt. The human tongue can barely taste the 5pp-7ppt so giving water the taste test to decide whether or not its fishable or not might not be the best method. Also, the saltier water is always lower in the water column. The saltier water is often where your speckled trout will be but they will certainly feed in the higher fresher if they need.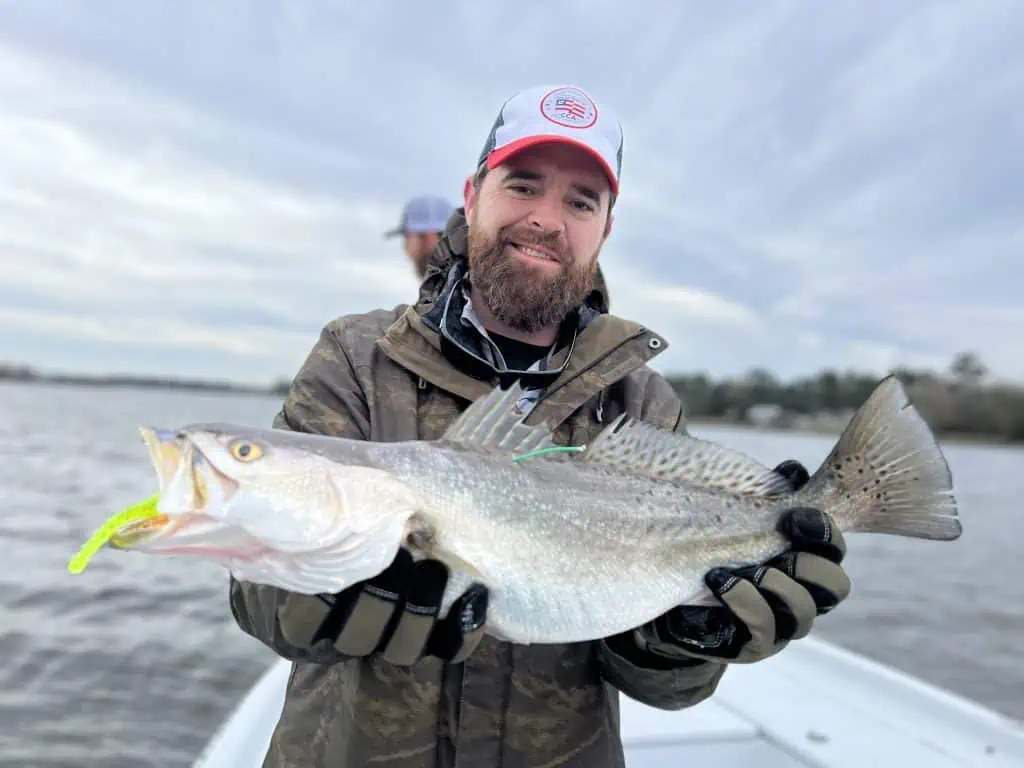 Long Winter
Most of the time once speckled trout fully enter the harbors, creeks, and rivers that's where they will remain until spring arrives. Once winter is in full swing we will see many to most bait fish and shrimp exit the rivers and creeks which actually makes fishing for speckled trout a little more interesting. Traditional popping cork and shrimp are not near as effective deep in the winter. It seems the bulk of what hangs in are mullet. Which makes the mullet bait pattern that much better. Winter fishing will continue as long as the fronts keep rolling through and water temps consonantly remain under 65 degrees. The longer days will be the speckled trouts calendar until the weather changes.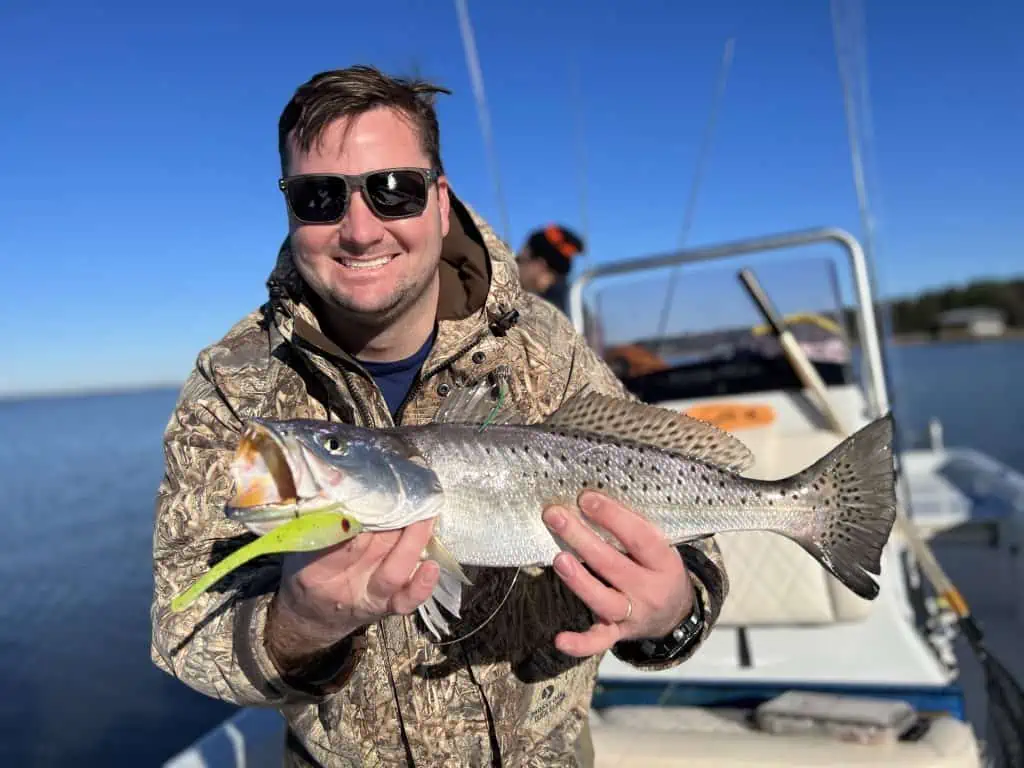 Spring
As we are approaching the first day of spring we will normally see more days between cold fronts. How will this affect fishing? The more blue bird days we have the more frustrating days of fishing you can expect. Just like in the fall when you have numerous days of pretty and comfortable weather the tougher it can be to get a speckled trout to bite. Blame the bad fishing on the pretty weather.
That's a Wrap
Thanks for checking out this post I hope you learned something. To wrap things up I recommend to not sleep in on the dreary weather days because the fish are probably biting the best. The second and third day behind the front is usually a good day to plan to hit the water as well.